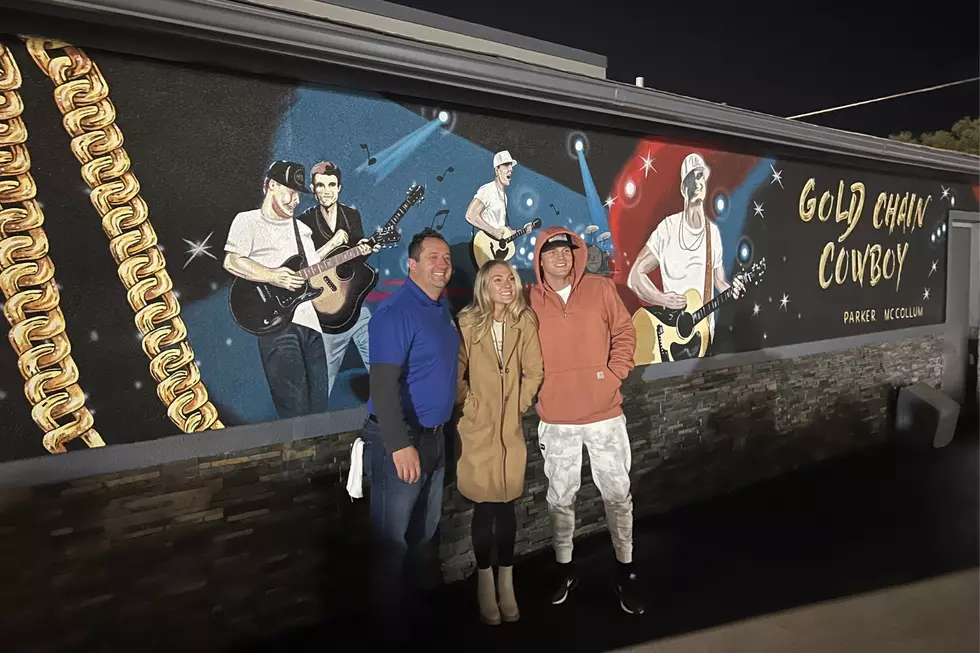 Abilene Artist Paints Beautiful Parker McCollum Mural on a Restaurant Wall
Photo by: Reuben Ortiz
What at first appears to be a restaurant that just might be owned by country music superstar Parker McCollum in his hometown of Conroe Texas is not. the reason I say that is because of a giant mural that covers the entire north side of this building known in Conroe as Joe's Italian Restaurant. The restaurant is owned by Joe Haliti.
Joe's Italian Restaurant has always honored local heroes like the military, police, and firefighters with murals painted on the side of the restaurant and with fundraisers. Haliti has decided to pay homage to the country superstar Parker McCollum by having this huge mural of the gold chain cowboy covering one side of his building.
Joe's heard time and time again that whenever Parker Mac takes the stage wherever he might be playing he introduces himself by saying "Hi I'm Parker McCollum, and I'm from Conroe, Texas!" During the Houston Rodeo Joe Haliti was at the event and heard Parker introduce himself, and Haliti said that it gave him such a feeling of pride that he wanted to honor Parker McCollum by painting the outside of his building.
The coolest part of this whole entire story is the artist that painted it is from right here in Abilene, Texas. The artist has literally painted hundreds of murals and businesses in Abilene and throughout Texas for the last 40 years. The artist's name is Ruben Ortiz.
Parker McCollum is also known as the "Gold Chain Cowboy"
While my wife and I were having lunch Sunday after church, Ruben Ortiz approached me and began showing me the pictures of his latest work. Ruben was smiling from ear to ear and was very proud of his latest accomplishment. The pictures of the Gold Chain Cowboy AKA Parker McCollum can be seen from a couple of blocks away.
And if you're wondering, yes Parker McCollum frequents the restaurant as he loves Italian food and Joe's is his favorite restaurant when he's back home in Conroe. Parker has said on numerous occasions "I love this town, you know I've been all over the US on tour, and I only feel at home, and comfortable when I'm right here in Conroe, Texas."
When Rubin approached me he told me that he and Joe Haliti have been friends for many years and that he finally got to meet a big-time country music superstar like Parker McCollum. Interestingly enough Joe Haliti who once lived in Abilene calls on an old Abilene friend and artist to paint Parker's likeness on his business.
The huge mural pictures Parker Mac in various poses along with his older brother, Tyler, who also plays in Parker McCollum's band. If you are ever in Conroe check out Joe's Italian Restaurant located at 1604 North Frazier Street, and who knows you too might run into Parker McCollum while having some delicious Italian food.
LOOK: These Tacos Are What You'll Find In Abilene
If you love tacos then you're in luck because Abilene has lots of places to find some tasty tacos
50 Most Popular Chain Restaurants in America
YouGov investigated the most popular dining brands in the country, and Stacker compiled the list to give readers context on the findings. Read on to look through America's vast and divergent variety of restaurants—maybe you'll even find a favorite or two.