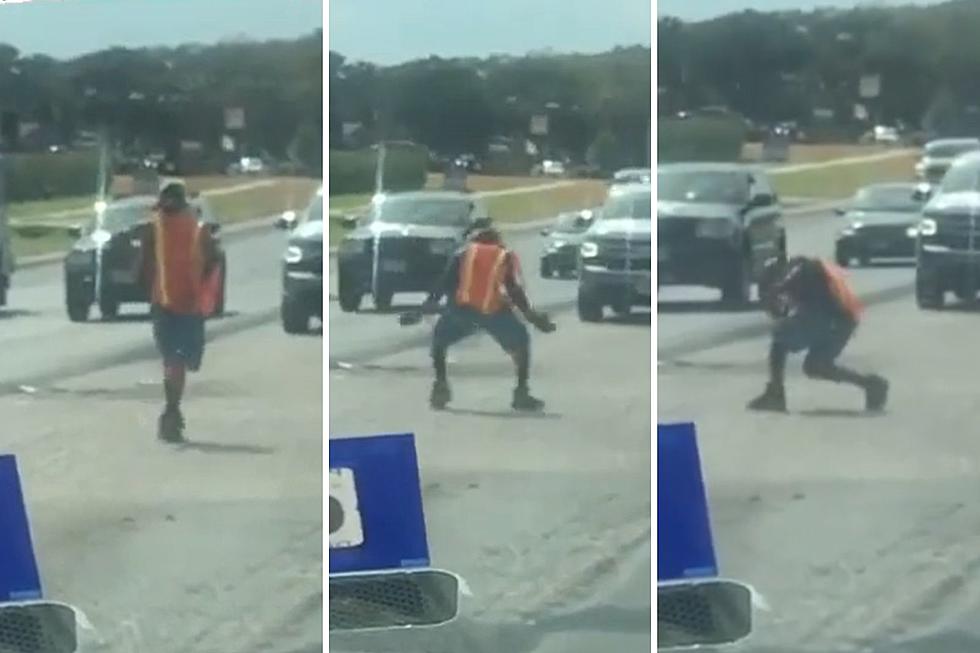 Watch This Texas Traffic Director Bust a Move While on Duty
TikTok/Canva
Meet the Grooviest Traffic Director in Texas: Spreading Joy One Dance Move at a Time
We're breaking down the video at the bottom of this article with no context whatsoever, as is tradition.
In the heart of the Lone Star State, where the sun beats down and traffic can be a real headache, there's one traffic director who's turning the asphalt into a dance floor! Meet the Texas traffic director who's been busting a move while on duty, and you won't believe the joy he's spreading!
The Birth of a Dancing Phenomenon
Everything started as just another ordinary day on the bustling streets of Oak Cliff, a suburb of Dallas, Texas.  But then, something extraordinary happened. A traffic director decided to break free from the mundane routine of directing traffic and unleashed his inner dance enthusiast. We'll call him Dancin' Dave.
Dance Dave's Signature Moves
Dance Dave's repertoire of moves is nothing short of impressive. From the moonwalk to the robot, from twirls to spins, he's got it all down pat. Dave's energy and enthusiasm are so infectious that it's nearly impossible to watch him without breaking into a smile.
Capturing Hearts and Going Viral
Dave's dancing didn't just captivate the drivers and pedestrians on the scene; it also caught the attention of onlookers with smartphones. Videos of Dave's dance moves started popping up on social media, and before he knew it, he was a viral sensation! People from all over Texas (and beyond) began flocking to the intersection just to catch a glimpse of Dance Dave in action.
A Much-Needed Dose of Joy
In a world filled with stress and worries, Dance Dave brings a much-needed dose of joy to his community. His energetic performances serve as a reminder that even in the most mundane situations, there's room for a little happiness. His positivity is infectious, and it's no surprise that people can't get enough of his spontaneous dance breaks.
Check out the video for yourself below:
Top Ten Trashiest Towns in Texas
Time to take out the trash or show off the trash of Texas. Check out the top ten below.
(All crime statistics were pulled from
www.neighborhoodscout.com
based on each individual town. See editor's note for Lufkin, Texas.)
Adios Texas! Here Are The Ten States Former Texans Move To
Moving away from Texas is always a daunting thought. But where do the former citizens of Texans go when they leave? The top ten is right here.
13 Fun Attractions That are Free to Visit in Texas
Here is a look at some really fun activities to enjoy with friends and family in the state of Texas that won't cost you anything.