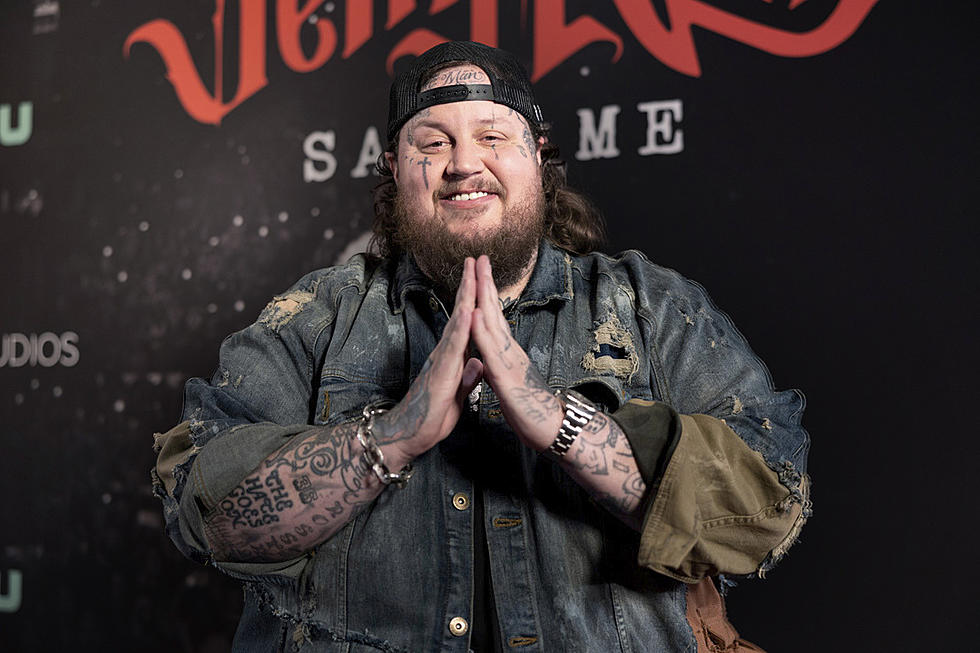 Jelly Roll, 'Whitsitt Chapel' — 13 Songs, 22 Easter Eggs [Album Review]
Jason Kempin, Getty Images
Jelly Roll named his Whitsitt Chapel album after the church he attended as a teenager in Antioch, Tenn. In fact, there it is on the cover. We won't count that as one of the 22 Easter eggs found throughout this different type of album review.
The singer (real named Jason DeFord) introduces himself as a dynamic country vocalist across 13 songs that are heavily influenced by the church. More than half focus on sin and redemption, while most of the rest are love songs. We've all listened to debut albums that lean heavily on a hit radio single and fill out the track list with fluff or lesser versions of the same. This isn't that kind of album.
Related: This Jelly Roll: Save Me Documentary Scene Will Rip Your Heart Out
Instead, Jelly Roll focused on repeating the connections made with "Save Me," his most important song to date. It's really easy to do that authentically when you've lived the life he's lived, so songs like "Church" and "Nail Me" will reach people.
Whitsitt Chapel is an album for the outcast within each of us.
Find facts, trivia and curiosities about each of the 13 songs below. We'll call them Easter eggs, as only the most astute fans will pick up on the subtleties.
Related: Jelly Roll Drops Full Track List for Whitsitt Chapel Album
1. "Halfway to Hell" — Jelly Roll's Whitsitt Chapel album name-checks a lot of legendary songs from country, hip-hop, gospel and more. Some are clearly intentional, while others may be just coincidence. We found tips of the hat to Merle Haggard ("Mama Tried") and Sister Rosetta Tharpe ("This Little Light of Mine") tucked in the lyrics of this fairly straightforward country song.
2. "Church" — "Church" is thematically similar to Maren Morris' debut hit, "My Church," but darker. Jelly Roll delivers his testimony from a Chevrolet truck. Along the way he calls out an Outkast song ("Ms. Jackson") and a hymn called "Just as I Am" that's been cut by everyone from Johnny Cash to Carrie Underwood. Hardy co-wrote this song.
3. "The Lost" — The refrain of this Miranda Lambert co-write goes, "It's that backroad baptism / Weed smokin', syrup sippin' / Whiskey river carry me home." "Syrup" is also known as purple drank, sizzurp or (as used in Lil Nax X's "Old Town Road") Lean. That lyric also nods to Willie Nelson's "Whiskey River."
4. "Behind Bars" — Jelly Roll, Brantley Gilbert and Struggle Jennings sing this song, and all three have spent time behind bars. Both Jelly and Struggle did significant time in jail, while Gilbert has always been a bit elusive about what he was arrested for. There's nothing that suggests it was more than an alcohol-related infraction, however.
This information takes the focus off of what is perhaps the most clever lyric on Whitsitt Chapel. It's not about jail at all, but about what's kept behind bars at a saloon or pub.
5. "Nail Me" — While "Church" and "The Lost" celebrate the underdog, "Nail Me" is more aggressive with his message. "How's it feel up there / Holier than thou / To live without a care / Perfect then and now," he sings.
The preacher heard at the end of this song and at the beginning or end of others is Jarrod Brown. On LinkedIn, he identifies as the President of Mission Lazarus.
6. "Hold on Me" — If you watched Jelly Roll: Save Me on Hulu you'll recognize this as the song he was writing with Hillary Lindsey, Alysa Vanderheym and Michael Whitworth. It's a soft, unrequited love ballad that tests Jelly Roll's vocals and shows off his impressive range. Lindsey is the female backing vocalist featured prominently on the song.
7. "Kill a Man" — Isn't it appropriate that the one true love song on Whitsitt Chapel is called "Kill a Man"? In April, Bunnie Xo revealed that her husband wrote this song about her:
8. "Unlive" (with Yelawolf) — "Unlive" borrows from Jelly Roll's story, but the Hulu documentary never describes his mother as the woman he describes in the first verse. Her addiction and mental health struggles get plenty of time, but at her worst, she was a recluse, not "turning tricks for paper."
That said, the second verse sounds very similar to the life he's described living. He also rhymes the word fentanyl, which is just flat-out impressive. The Yelawolf feature targets the longtime fans of his hip-hop music and hits a bullseye. It's also the song Ashley McBryde helped write, which is just fascinating.
9. "Save Me" (with Lainey Wilson) — "Save Me" was written with Jelly Roll's "Son of a Sinner" co-writer David Ray Stevens early on in the COVID-19 pandemic. More than any other song, it's why we're here. He says labels started calling soon after the video went viral, and by 2021, he'd signed a recording contract.
Perhaps most importantly, it's the song that speaks to his most-hard luck fans. Nearly every single Jelly Roll fan has a "Save Me" story, and many will bring you to tears. The Easter egg is this song is among the first he recorded with no rap vocals (per Billboard).
10. "She" — In October 2022, Jelly Roll told Taste of Country that "She" is his mother and his daughter's mother. Both women fought addiction, and he says both are beyond it.
The chorus of the song could be interpreted literally. "I bet they wonder where she is now," he sings. In his documentary, Jelly Roll shares that his mother would sequester herself in her bedroom for days at a time.
"She's afraid of comin' down," he adds. That bedroom was upstairs.
11. "Need a Favor" — Yes, that is the Fisk University Jubilee Singers joining Jelly Roll on "Need a Favor." Joe and Rob Ragosta of the punk rock band Patent Pending helped him write this song.
12. "Dancing With the Devil" — Hunter Phelps and Zach Crowell helped form a tight core for this album. The two men helped Jelly Roll write this song. It's the seventh or eighth that is centered on church, sins, faith or God.
13. "Hungover in a Church Pew" — To close the first verse, Jelly Roll says "I drink Teremana." That's a tequila owned by the Rock (Dwayne Johnson), who is good friends with Jelly Roll.
10 Things You Didn't Know About Jelly Roll
The
Jelly Roll: Save Me
documentary on Hulu tells
Jelly Roll'
s complicated life story and spares no details. He's shockingly honest about addiction, prison, his childhood and his insecurities. Here are 10 key takeaways from the project.
11 Songs that Foreshadowed Jelly Roll's Country Music Career
Jelly Roll has taken the country music world by storm over the past year, and he will release his first full-length country album, Whitsitt Chapel, on June 2. Before he jumps right into the deepend of the genre, let's take a walk down memory lane. There are 11 songs that seemed to foreshadow his country music career.