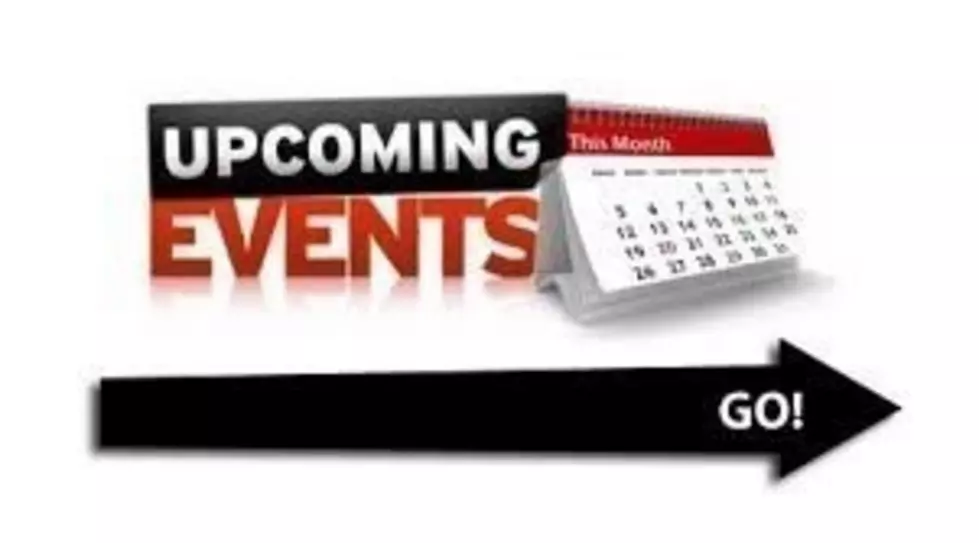 San Angelo's Weekly Events And Activities
thinkstock
This week in San Angelo, the Cinch Roping Fiesta is in town, there are numerous haunted houses and Halloween activities, enjoy the Brews - Ewes and BBQ cook-off, Great concerts, and more...
Enjoy three big nights this week at Midnight Rodeo. Thursday, Oct. 26th, catch the Eli Young Band in concert(Check out our facebook page to see how you can win VIP Meet & Greet tickets). Mike Ryan will take the stage Friday. Finally, you have a chance to be a big cash winner with their $500.00 Halloweekend costume contest on Saturday night.
'Nightmare At Camp Williams offers you a spooky experience this Thurs - Sat, Oct. 26th through the 28th across from the San Angelo State Supported Living Center in Carlsbad. Three bone chilling attractions await you at Nightmare at Camp Williams including the Murder Maze, the Haunted Hayride and Creepy Cabins after dark. This is not for the faint of heart. Ages 8 (with adult) & up. $10 per person, $5 for the Maze. For more, call 465-2257.
The Cinch Roping Fiesta is this Friday - Sunday, Oct. 27th - 29th. Friday  enjoy Preliminary Roping in the Spur Arena with free admission. Saturday at 1:00 pm, it's the Invitational Calf Roping & Match Roping in the Outdoor Roping Arena with Caleb Smidt vs. Ryan Jarrett, tickets are $12. Sunday at 1 pm it's the Invitational Steer Roping & Double Mugging in the Outdoor Arena with $10 tickets. Also, take in the Cowboy Christmas Show in the San Angelo Coliseum & the Cattle Barn both Friday and Saturday with free admission. Click here for more information.
Fright Fest 2017 is this Saturday evening, Oct. 28th from 6-9 pm at San Angelo's Nature Center at 7409 Knickerbocker Rd. Enjoy games, candy, crafts, animals and a free showing of the movie "Hocus Pocus." Admission is $3 for Nature Center members, $5 for non-members.
Back for a 3rd year, Downtown San Angelo Ghost Walks are very popular and take you on a journey through the streets to some of the oldest and most haunted buildings in Downtown San Angelo. The Ghost Walk is suitable for all ages but does include details of our most gruesome history. New places have been added this year to offer you even more hauntings and history! This year's Ghost Walks are running through Oct. 31st. For more information about dates, times, and tickets, call 716-4125.
Downtown San Angelo, Inc. is hosting the Brews, Ewes and BBQ cook-off &  Home Brew Contest this Fri and Sat, Oct. 27th & 28th. Enjoy various events in the Downtown Stock Yards lot at 112 E. Concho Avenue, also in the parking lot of Whiskey River Saloon at 125 E. Concho and Bart DeWitt Park.  Friday features a free concert from 6-9 pm & a "Jalapeno Popper" competition also being held that evening. Saturday morning it's the San Angelo Lions Club's Pancake Extravaganza Breakfast at 8 am at the corner of S. Chadbourne and Concho. At 11am the Angelo State University Homecoming Parade takes place, and be sure to take in the Brews Ewes & BBQ Cook-Off with plenty of fun, including a kids petting zoo,  Horseback Riding for children and more. Go to downtownsanangelo.com for more information.
Haunted House in the Old Downtown Fire Station runs this Friday, Oct. 27th through Tuesday, the 31st. Experience frights and chills at 200 S. Magdalen Street. This old, historic building at one time was home of the San Angelo Fire Department's Central Fire Station. It houses many secrets and stories. If you dare to enter, you won't forget the experience. The haunted house is a fundraiser for Healthy Families San Angelo. Entrance fee is just $5.
Check out the Spook-A-Rama Haunted House running through October 31st from 7-11:30 pm nightly at the old M & R Nursery at 1601 West Beauregard. Find your way through a 12,000 square foot Maze. For more information, call 213-0496.
The ASU Planetarium presents the full-dome public astronomy show "Stars: The Powerhouses of the Universe" at 7 p.m. on Thursdays through Nov. 16th. All shows are open to the public with admission prices of $3 for adults and $2 for children, active military and senior citizens. ASU students, faculty and staff are admitted free. Call 942-2136 for more information.