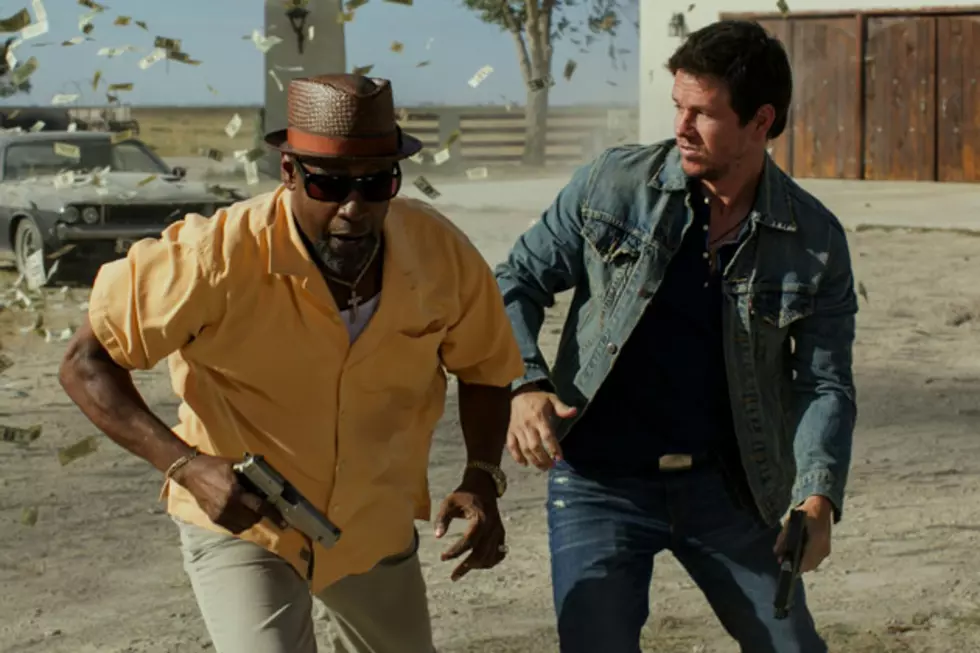 Weekend Box Office Report: '2 Guns' Shoots Down 'The Smurfs 2′
Universal
Ah, the continuing appeal of the one and only Denzel Washington. How much do people love this guy? They love him so much that they'll transform just about any movie he appears in into a respectable hit, even if that movie is a poorly marketed (but well-reviewed) action movie based on a comic book that no one read. We shouldn't be surprised that '2 Guns' shot to the top of the box office, but we are a little. Oh, Denzel Washington, you always catch us off guard.
Film
Weekend
Per Screen
1
2 Guns
$27,361,000
$9.045
$27,361,000
2
The Wolverine
$21,725,000 (-51.9)
$5,536
$95,039,000
3
The Smurfs 2
$18,200,000
$4,708
$27,761,000
4
The Conjuring
$13,660,000 (-38.5)
$4,385
$108,590,000
5
Despicable Me 2
$10,391,000 (-36.7)

$3,240
$326,668,000
6
Grown Ups 2
$8,100,000 (-30.2)
$2,634
$116,400,000
7
Turbo
$6,400,000 (-53.4)
$2,144
$69,479,000
8
Red 2
$5,650,000 (-39.5)
$2,051
$45,153,000
9
The Heat
$4,725,000 (-31.7)
$2,278
$149,566,000
10
Pacific Rim
$4,570,000 (-40.7)
$2,535
$92,961,000
Although $27 million is far from the most impressive opening of the summer, it's pretty darn good for a non-sequel action movie with a generic title. '2 Guns' didn't cost too much, so it didn't need a massive opening. With Washington's star power (no one will ever give co-star Mark Wahlberg any credit for this), the film should be a minor hit, letting everyone in the Denzel business know that yes, this Oscar-winning actor should continue pumping out action films twice a year or so for the foreseeable future.
In second place, 'The Wolverine' took a sizable drop, taking in $21 million. That's a little rough, but the film is only a day or two away from $100 million. International grosses should help ease the pain, but this is evidence that audiences are still feeling sore from 'X-Men Origins: Wolverine' kicking them in a butt a few years ago.
And that brings us to 'The Smurfs 2,' which opened to $18 million, roughly half of the first film's opening. It seems that even kids are tired of these annoying blue monstrosities. Hooray? Yes. Hooray, indeed.
In fourth place, 'The Conjuring' flew past $100 million, making it the highest grossing original horror film since 'The Sixth Sense' back in 1999. It may have the legs to reach $150 million, but at this point, the final numbers aren't as important as the fact that this is one of the biggest horror smashes in a long, long time. This is the box office success story of the summer.
And then there's 'Despicable Me 2' in fifth place, which added another $10 million to its massive pile of money for a total of $326 million. It's finally slowing down, so $400 million is probably out of the question, but you really can't turn your nose up at a gross like that. Right below it, 'Grown Ups 2' is still a thing and it's a thing that now has $116 million. That's not even close to the first film, but it's enough to make it wildly successful.
In seventh place, 'Turbo' continued to play second fiddle to 'Despicable Me 2,' grossing $6 million for a paltry $69 million. In eighth place, 'Red 2' continued to underperform, taking in $5 million for a $45 million total. The big winner in the back end of the top ten is 'The Heat,' which is juuust about to crack $150 million.
In tenth place, 'Pacific Rim' looks like it'll barely miss the $100 million mark. Bummer.