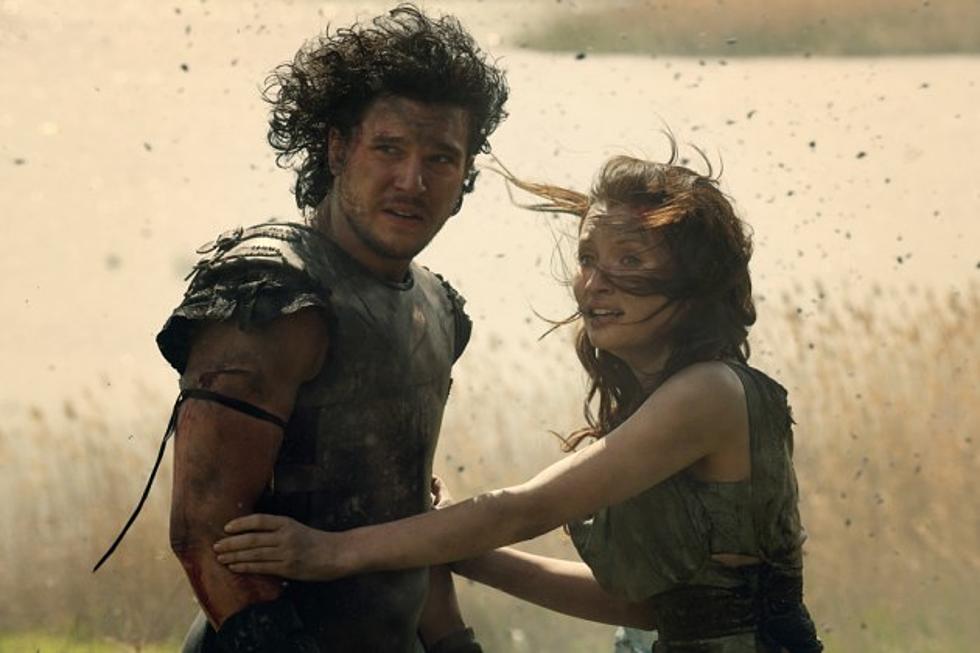 Weekend Box Office Report: 'Pompeii' Fizzles While 'The LEGO Movie' is Still Awesome
FilmDistrict
For the third weekend in a row, 'The LEGO Movie' effortlessly held onto the number one spot at the box office, cutting down all of the newbies that showed up to dethrone it. Don't cry to hard for '3 Days to Kill,' but feel free to wince a'plenty for 'Pompeii.'
Film
Weekend
Per Screen
1
The LEGO Movie
$31,450,000 (-36.9)
$8,085
$183,160,000
2
3 Days to Kill
$12,300,000
$4,283
$12,300,000
3
Pompeii
$10,010,000
$3,766
$10,010,000
4
RoboCop
$9,400,000 (-56.6)
$2,788
$43,600,000
5
The Monuments Men
$8,100,000 (-47.7)

$2,644
$58,050,000
6
About Last Night
$7,400,000 (-71.1)
$3,285
$38,150,000
7
Ride Along
$4,667,000 (-46.4)
$2,135
$123,173,000
8
Frozen
$4,357,000 (-30.0)
$2,304
$384,061,000
9
Endless Love
$4,301,000 (-67.7)
$1,485
$20,142,000
10
Winter's Tale
$2,130,000 (-70.8)
$718
$11,224,000
'The LEGO Movie' grossed $31 million over the weekend, bringing its current total to $183 million. $200 million should happen by next week, but $300 million is still the big question mark. If each week's drop-off remains as mild as they've been so far, Chris Miller and Phil Lord's instantly-beloved movie may break that milestone. In any case, $200 million is a huge victory and anything on top of that is just additional frosting/gravy/tasty topping.
In second place, '3 Days to Kill' grossed a disappointing $12 million, failing to replicate the success of 'Taken,' the current go-to template for movies about middle-aged action heroes killing a bunch of bad guys. The consolation here is that this wasn't an expensive production and that it actually stands a pretty solid chance of breaking even in the coming weeks unless it drops off entirely. However, Kevin Costner's attempt to reboot his career as an old action hero has been nipped in the bud.
The big disaster of the weekend was undoubtedly Paul W.S. Anderson's 'Pompeii,' which was sold like a louder, trashier 'Titanic' and only did a tiny fraction of that movie's box office. With $10 million over the weekend against a $100 million budget, this is the first truly colossal bomb of 2014. Kit Harington has probably never been happier to have 'Game of Thrones' and Anderson is probably now rushing to get 'Resident Evil 6' made.
In fourth place, 'RoboCop' took a steep drop, grossing only $9 million for a $43 million total. It will not break even. Right below it, 'The Monuments Men' grossed $8 million for a $58 million total. With a little luck, it will break even.
Sixth and seventh place belonged to two Kevin Hart productions. Unfortunately, 'About Last Night' took a truly massive drop from its large opening weekend, making what looked like a hit now look like a disappointment. At least 'Ride Along' is still going strong with $123 million.
And then we come to 'Frozen,' which added $4 million over the weekend for a $384 million total. The sound you hear is Disney execs gnashing their teeth at how close this one is to $400 million. If it can hold on for just a few more weeks, it should be able to cross that line.