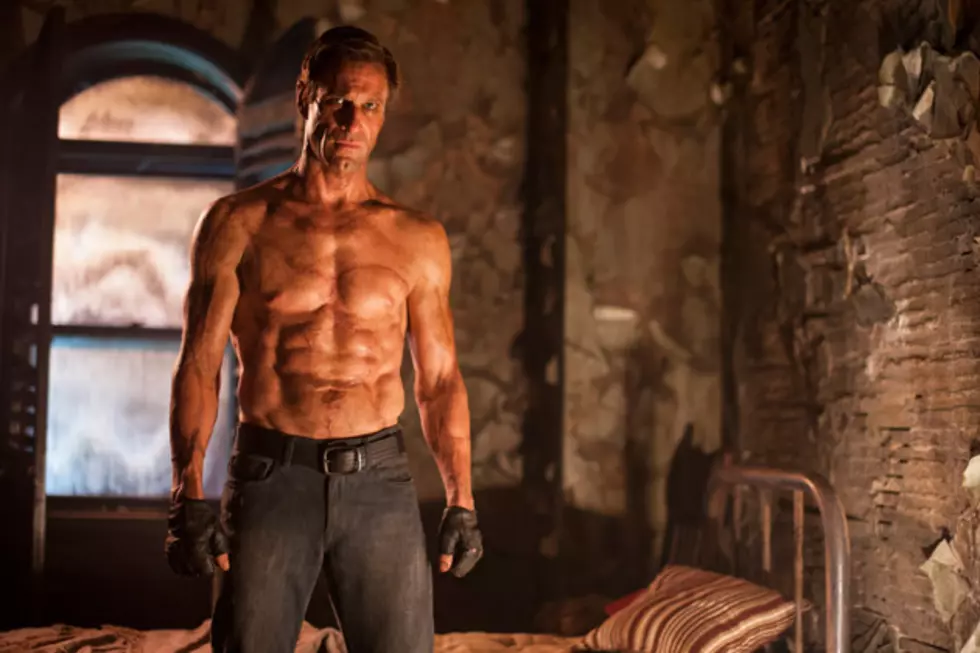 Weekend Box Office Report: 'Ride Along' Leaves 'I, Frankenstein' Choking on Exhaust
Lionsgate
Ah, a week at the box office where the new release flies completely under the radar and everything else feels like it's just hanging out because there's nothing else to push it off the charts. Welcome to January. Welcome to the home of movies like 'I Frankenstein,' which was dead on arrival this weekend and will vanish into dollar theaters within the next week or so.
Film
Weekend
Per Screen
1
Ride Along
$21,162,000 (-49.0)
$7,670
$75,407,000
2
Lone Survivor
$12,601,000 (-42.9)
$3,985
$93,615,000
3
The Nut Job
$12,316,000 (-36.6)
$3,547
$40,271,000
4
Frozen
$9,035,000 (-23.2)
$3,277
$347,816,000
5
Jack Ryan: Shadow Recruit
$8,800,000 (-43.0)

$2,598
$30,168,000
6
I, Frankenstein
$8,275,000
$3,006
$8,275,000
7
American Hustle
$7,100,000 (-28.0)
$3,082
$127,039,000
8
August: Osage County
$5,041,000 (-31.6)
$2,091
$26,527,000
9
The Wolf of Wall Street
$5,000,000 (-29.3)
$2,772
$98,030,000
10
Devil's Due
$2,750,000 (-66.9)
$1,081
$12,886,000
Opening in sixth place with a cringe-worthy $8 million, 'I, Frankenstein' failed to capture the 'Underworld' and 'Resident Evil' audience for which it was so obviously made. Aaron Eckhart may be a solid actor, but he's no movie star -- this should be proof that he needs to stop trying to be an action star and concentrate on what he's good at (which does not include playing super-buff undead guys who battle CGI gargoyles). No one was expecting this one to do particularly well, but even the most pessimistic box office prognosticators were expecting a $10-15 million opening.
While people avoided 'I, Frankenstein,' they continued to make 'Ride Along' the first hit of 2014. The comedy held onto first place with $21 million, bringing its grand total to $75 million. At this rate, $100 million is a sure-thing but it probably won't get too much higher than that. In any case, expect to start seeing Kevin Hart headlining a whole bunch of movies for the next few years.
Meanwhile, 'Lone Survivor' clung to second place, grossing $12 million for a $93 million total. It should cross $100 million by next week, proving that yes, there is an audience for hyper-violent war movies as long as they're about how awesome America is. In any case, this box office should be a bandage for director Peter Berg, who was expected to receive at least some awards attention but has been receiving none. But hey, at least he's atoned for 'Battleship.'
In third place, 'The Nut Job' continued to take advantage of the fact that it's the only new kids' movie out there, grossing $12 million for a $40 million total. This thing was made on the cheap, so it's already on the way to being a minor hit (and a sequel has been announced). Right below it, 'Frozen' continued to show what good family entertainment actually looks like, grossing $9 million and bringing its current total to $347 million. If it stays this strong (and it will), it should soon pass 'Despicable Me 2' to become 2013's highest grossing animated movie.
In fifth place with an $8 million weekend and $30 million total, 'Jack Ryan: Shadow Recruit' shrugged its shoulders and said "Hey, at least I'm not 'I, Frankenstein.'"
In the final stretch, 'American Hustle' continued to perform extremely well, 'August: Osage County' rode its handful of awards nods for decent box office and 'The Wolf of Wall Street' primed itself to pass $100 million within the next few days. And then there's 'Devil's Due,' which just exists. It'll vanish by next week.