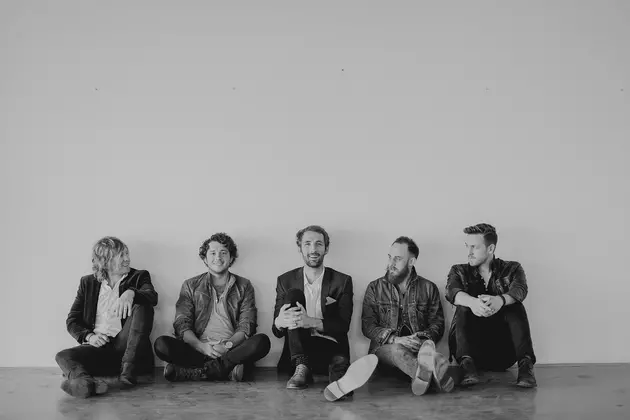 Green River Ordinance Feel Free to Be Themselves on 'Fifteen' — However You Classify Them
Photo by Sean Menary, courtesy of Shore Fire Media
Following the Jan. 22 release of their newest album, Fifteen, Green River Ordinance sold enough records to earn the No. 7 spot on Billboard's Country Albums chart; however, the Texas band didn't see their name in that slot because Billboard judged the project a better fit for the folk and rock charts and included it there instead. It's not the first time GRO have been considered "not country enough," and it may not be the last, but if it were up to the band, they wouldn't have to worry about labels at all.
"Across the board, I think any time you [label something], it kind of limits the potential of the art," lead vocalist and acoustic guitarist Josh Jenkins tells The Boot. "... It's just one of those things that's like, 'Why can't we let it be and let it happen?'"
When they formed in the early 2000s, Green River Ordinance found themselves being compared to the alt-rock and pop-rock artists of the time; in fact, they "wanted to be Matchbox 20," Jenkins says. Fifteen years later, that's not really the case.
"As you grow up, in all different facets of your life, things change, flavors change, tastes change; you become hopefully wiser and better," Jenkins muses.
After releasing an EP and a full-length album independently, GRO signed with Virgin Records and put out the pop-rock-y Out of My Hands in 2009. But, seven years later, Green River Ordinance's progression to country / folk / Americana / whatever-you'd-like-to-call-it has simply been "a natural maturing, growing-up process."
"For us, it's just a natural progression of us growing up -- stylistically growing up and becoming more fearless with how we create," Jenkins says. "... When we removed the need to be what anyone else thought we should be, and we just kind of existed, this is where we landed."
Jenkins, Denton Hunker, Geoff Ice, Jamey Ice and Joshua Wilkerson were in their late teens when they formed Green River Ordinance. They "dove into a band right out of high school ... and spent every waking hour in each other's zone and driving and not sleeping," Jenkins recalls; essentially, they helped each other grow up, and became a family in the process.
"You learn a lot about yourself, and you learn how to show grace to other people and how to be patient ... For us, it was really the commitment as friends to grow not only musically but as people," Jenkins explains. "... Surprisingly, we've come out on the other end of all of that, and we're still friends. Which is a little bit of a miracle, I think."
To craft Fifteen, the quintet returned to a cabin owned by Geoff Ice's in-laws. GRO also readied their 2013 EP, Chasing Down the Wind, there, after realizing during the recording of 2012's Under Fire just how much a space's aesthetics affect their art.
"It really just opened us up to feel free," Jenkins notes of the cabin. "... Letting your soul breathe a little bit, out of that, some stuff comes to the surface ... Stuff just happens, and it's not too forced.
"Sometimes in writing, I feel like you try so hard ...," Jenkins adds.
Green River Ordinance released the uptempo "Red Fire Night" as Fifteen's debut single in late 2015, but they're enjoying getting to play all of the new material live. The group has a busy tour calendar through April, including a stop at SXSW 2016.
"It's fun after a record comes out to go hit a city and get people excited about it," Jenkins admits.
Fifteen is available for download via iTunes.
15 Americana, Folk and Alt-Country Artists to Watch in 2016