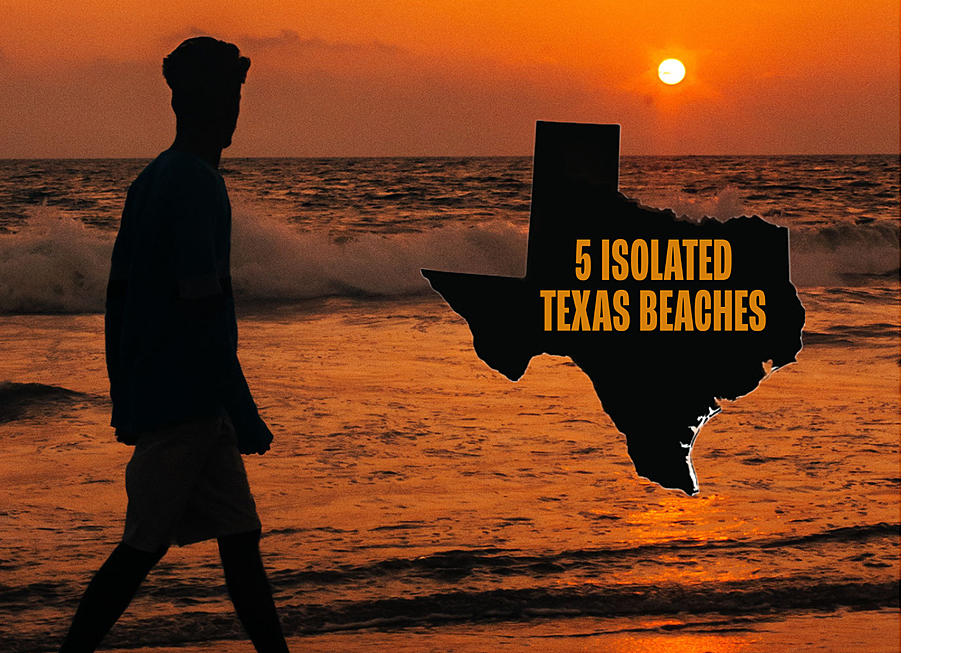 Get Away From It All On These Five Texas Beach Escapes
Photo by Daniel Joshua on Unsplash
No one loves the beach more than I do. I love listening to the waves and feeling the refreshingly cool ocean breezes. Watching the pelicans and other seabirds is enchanting.
Some of the things I don't like about beaches are crowds.
Everyone loves to turn on their music. It almost seems on some weekends where fans of all the different types of popular music have contests to see who can be the loudest. Some people love to let their dogs run wild, and sometimes they can't help jumping on you with wet paws.
Don't get me wrong; I believe everyone is entitled to enjoy the beach in their own special way. For me, I like to enjoy it in relative peace and solitude. On hot summer days, that cannot be easy.
There are some beaches here in Texas where you can find this. They are not always the easiest to find or get to, but they await you this summer.  Here are five of the best:
1) Boca Chica Beach: This beach is near the mouth of the Rio Grande. Access to this beach can be difficult. You must navigate remote roads; certain areas may require four-wheel drive vehicles. It is also where Space X launches rockets, so during launch times, access can be limited.
This is the end of the line for Texas and The United States. If you travel down to the mouth of the Rio Grande, you can see the border wall, which continues about 30 feet out to sea.
There are no amenities.  You have to bring everything with you, but once you get here you can enjoy many isolated areas for quiet reflection and enjoyment. There are also peregrine falcons and many other sea birds.
2) Matagorda Island: This isolated beach is right in our own backyard. This barrier island is 38 miles long and is only accessible via hiking, biking, or Texas Parks and Wildlife Division vehicles during scheduled hunts or tours. There is no electricity, concession, or drinking water on the island.  Cell service is spotty.
There is a lighthouse from 1852 on the north end of the island.
When you want to immerse yourself in solitude and hear your inner voices punctuated by the calls of sea birds, there can be no better place. Get a boat or find a friend with a boat and enjoy.  Just remember to watch for alligators.
3) Padre Island National Seashore: The only question you have to ask yourself about visiting the Padre Island National Seashore is how far away from the nearest other human being you want to be.  You can travel 60 miles of the uninhabited beach with the right vehicle.
This narrow barrier island is home to one of the last intact coastal prairie habitats in the United States.
You can tell this is one of my favorite beaches in the world. If you do a search on Facebook for Padre Island National Seashore photos, several photos of me will pop up.  Yea, it surprised me too.  It is a great place to get away from it all.  Keep driving. Eventually, you'll get to a place without anybody.
4) St. Joseph Island or San Jose Island: The 21 miles of undisturbed golden sands of San Jose Island are nearby. There is only one way to get to the island. It is a five-minute boat ride from Fisherman's Wharf, Port Aransas. The island is uninhabited and very tranquil.
One of the most amazing things about San Jose Island is the tantalizing assortment of seashells.  Visitors routinely find sand dollars, lightning whelks, shark eyes, angel wings, starfish, and many others.  The fishing is also incredible.
5. Mustang Island State Park: This five-mile stretch of pristine shoreline is perfect for escaping it all. This beach isn't as hard to get to. You can drive right up to the edge. The beach is far away from the crowds yet close to amenities.  The park gets slightly more crowded than the previous locations, but it is much easier to access.
There are lots of isolated beaches, and they're not that far away. Take a little time out for solitude this summer on a Texas beach. You will leave refreshed.
RANKED: Here are the most popular national parks
To determine the most popular national parks in the United States, 
Stacker
 compiled data from the 
National Park Service
 on the number of recreational visits each site had in 2020. Keep reading to discover the 50 most popular national parks in the United States, in reverse order from #50 to #1. And be sure to check with individuals parks before you visit to find out about ongoing, pandemic-related safety precautions at 
www.nps.gov/coronavirus
.