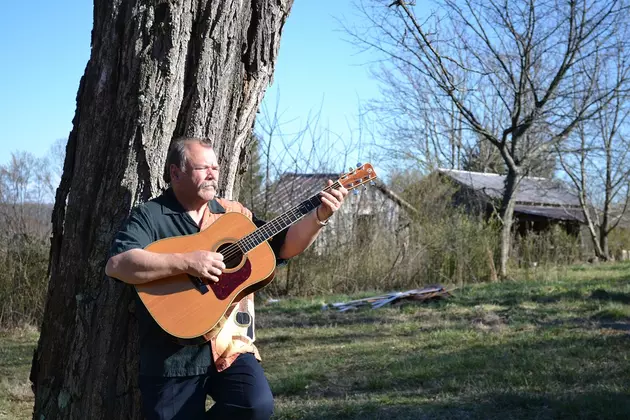 James King, 'The Bluegrass Storyteller', Dead at 57
Photo by Julie Lillard King, courtesy of Concord Music Group
The year 2016 has been a tough one. On Thursday (May 19), yet another artist passed away: bluegrass musician James King.
According to a press release and his obituary, King died peacefully at Lewis Gale Hospital in Salem, Va., surrounded by his longtime girlfriend, Becky Rhodes, his brothers and a few other relatives and close friends; he was preceded in death in 2012 by his daughter Shelby Ann King, who was killed in a tragic car accident at 18. A recovering alcoholic, King succumbed to complications from a long battle with cirrhosis of the liver (long sober, it was announced in late 2014 that King was in need of a liver transplant).
Known as the "Bluegrass Storyteller," King won 12 Bluegrass Music Awards and earned a Grammy nomination for his 2013 album Three Chords & the Truth. He was signed to Rounder Records in 1992, after serving in the United States Marine Corps, and was inducted into the Virginia Music Hall of Fame in 2014.
"Nine years ago, my father and I heard a man singing in a jam session between two campers in Maryland when it was pitch black outside," remembered Alison Krauss in remarks that were read at King's induction. "Our jaws hung open, and then we had to search the festival site to retrieve the top of my head. The voice we heard was magnificent. It was so powerful, emotive, haunting, and one of a kind. It was you."
King was born in Martinsville, Va., on Sept. 9, 1958, and raised in Carroll County. He grew up surrounded by bluegrass music -- his father and uncle were professional bluegrass musicians -- and, following his Marine Corps service, spent the 1980s playing with bluegrass bands and solo, until landing his deal with Rounder.
A visitation for King was held on Monday (May 23) at Moody Funeral Services in Mt. Airy, N.C.; his funeral will take place on Tuesday (May 24), followed by a burial at his family's plot in Cana, Va. A GoFundMe page has been set up to help offset funeral expenses.
Country Artist Who Have Died in 2016