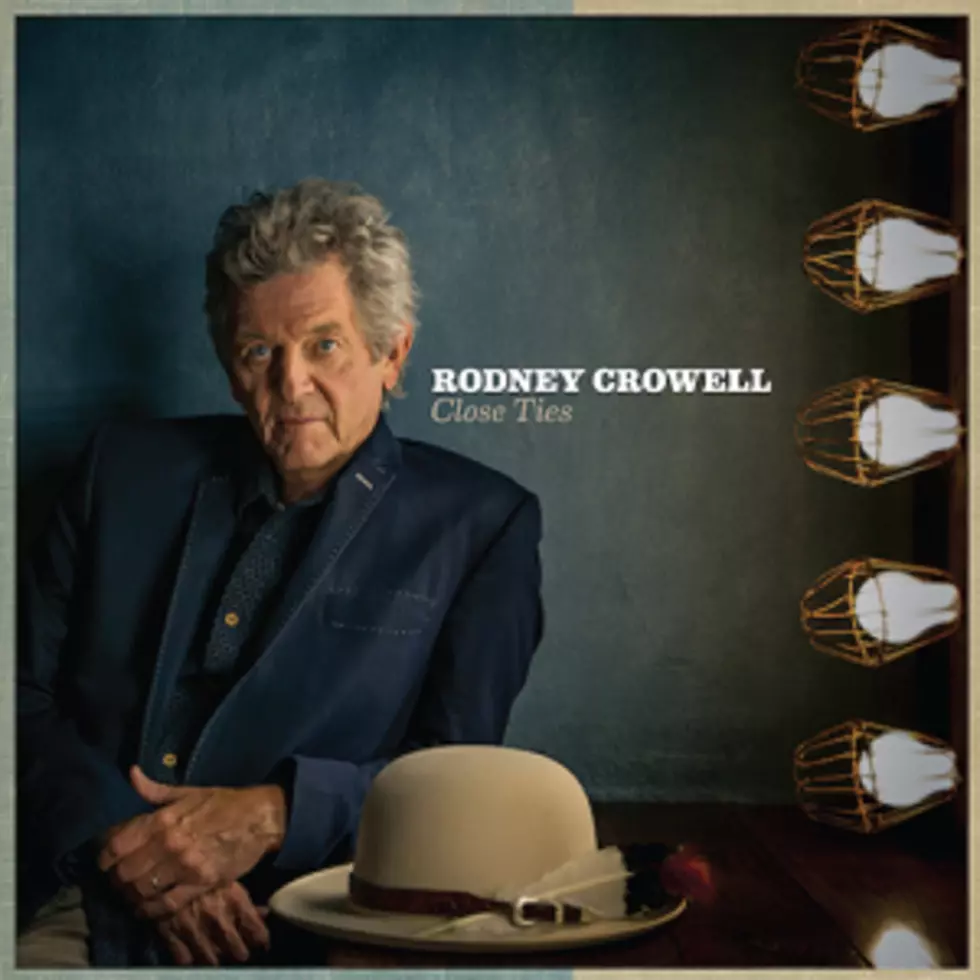 Rodney Crowell Announces New Album, 'Close Ties'
New West Records
Rodney Crowell has announced the release of his first new album in more than three years. The project, titled Close Ties, will make its debut on March 31.
Close Ties is deeply personal for Crowell: The record features songs he penned about his Texas upbringing and his start as a Nashville songwriter, as well as tracks that pay homage to friends and former lovers.
"A few years ago, I made a record called The Houston Kid that triggered Chinaberry Sidewalks," Crowell explains in a press release, referring to his 2011 memoir. "Those memory muscles are pretty strong in me. They have a natural pull. And so many of these songs use those memories as raw material."
Crowell's new disc features collaborations with Sheryl Crow and John Paul White and Rosanne Cash. White and Cash join Crowell on "It Ain't Over Yet," which also includes harmonica work from Mickey Raphael; readers can hear the song and watch its music video below. The tune marks the first time that Crowell and Cash have appeared on an album together since "It's Such a Small World" was included on Crowell's 1988 release Diamonds & Dirt.
For Crowell, songwriting is a type of poetry -- an aspect of his music that he thinks fits well within his genre.
"I have declared my loyalty to Americana," he says. "It's a hard category for people to get their heads around, or at least the terminology is. But all the people who represent it -- Townes Van Zandt, Guy Clark, Lucinda Williams, Steve Earle and more recent stars like John Paul White and Jason Isbell -- share a common thread ... Whether they are actual poets or their music exemplifies a poetic sensibility, generally speaking, the Americana artist shuns commercial compromise in favor of a singular vision. Which resonates with me."
Close Ties will be released via New West Records; the album is available for pre-order via Amazon and iTunes. Crowell is set to kick off a supporting tour on Feb. 14 in New Braunfels, Texas; a list of his upcoming shows can be found at RodneyCrowell.com.
Rodney Crowell, Close Ties Track Listing:
1. "East Houston Blues"
2. "Reckless"
3. "Life Without Susanna"
4. "It Ain't Over Yet" (feat. Rosanne Cash and John Paul White)
5. "I Don't Care Anymore"
6. "I'm Tied to Ya" (feat. Sheryl Crow)
7. "Forgive Me Annabelle"
8. "Forty Miles From Nowhere"
9. "Storm Warning"
10. "Nashville 1972"
Hear Rodney Crowell's "It Ain't Over Yet" (feat. Rosanne Cash and John Paul White)
New Country, Americana, Alt-Country, Bluegrass and Folk Albums Coming in 2017