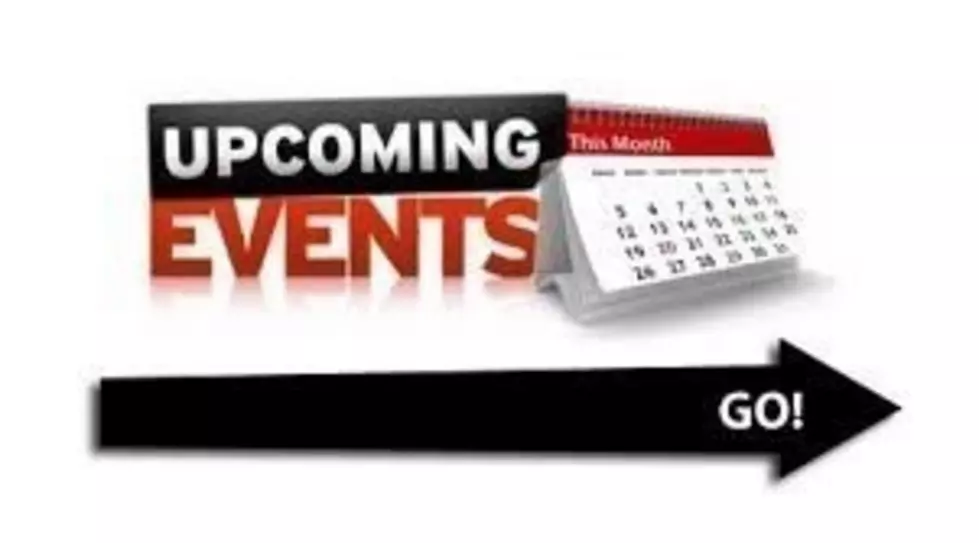 San Angelo's Weekly Events and Activities
thinkstock
Lots of fun in the Concho Valley this week: Rockin' the Ranch, Bosque-toberfest, Riverstage Concert, Dry Devils River Music Flood, JBF Sale, and a LOT more listed below...
Enjoy a Free Family Friendly Street Fest with a fantastic lineup of live music this Saturday, Oct. 7th. It's time for the annual 'Rockin' the Ranch' fundraiser for The West Texas Boys Ranch. The concert takes place on W. Twohig Ave which will be closed off and turned into a live outdoor music venue for the day. Performances begin at 3 pm and include: Jason Eady, Courtney Patton, Zack Walther, Jaime Lin Wilson, Jennifer Westwood & Handsome Devils, Donovan Keith & The Funky Feat, and Zac Wilkerson.
Enjoy Great live music downtown until midnight! Bring your family, friends and lawn chairs! For more information, call 658-3434.
Bosque-toberfest is this Saturday, Oct. 7th from 2-7 pm at The Bosque at 330 S. Irving St. in San Angelo. Admission is free for all ages, and events include: putt-putt golf, kayaking and paddleboats, a cupcake walk, washer-pitching tournament, corn hole tournament, volleyball tournament, and more! Food trucks will be selling German sausage, bratwurst and sausage on a stick. A German beer tasting will be available for anyone 21 or older with an ID. For more information, call 657-4450.
Grammy winners and San Angelo natives Los Lonely Boys are performing a Hurricane Harvey benefit concert at 7 p.m. this Sunday, Oct. 8th, at the RiverStage.
All tickets are $10 general admission and can be purchased at stubwire.com or at Blair's Western Wear. All ticket proceeds will be donated to the Robin's Heart Foundation for the Hurricane Harvey Relief Fund. Gates open at 6 pm.
Dry Devils River Music Flood is this Saturday, October 7th starting at 11:00 am at Sutton County Park in Sonora. It's going to be a big day with a Music Festival, Catfish cook-off, Hell or High Water 5K, Golf Scramble, concessions, and it's BYOB with a $5 cooler charge.Gates open at 11:00 am & Music starts at 12:30 featuring: Zane Williams, Shane Smith & the Saints, Bri Bagwell, Rich O'Toole, Dalton Domino, Clete Bradley & The Mood, and Mike & The Moonpies. For more information, go to sonoratexas.org or call 888-387-2880.
This Saturday, Oct. 7th is the 1st Saturday of the month and The Chicken Farm Art Center will be hosting their monthly celebration of art, music and community! There will be artist & vendors with great works and gift ideas, a live music circle hosted by The Chicken Pickers, delicous food, clay for the kids to play, and more. It's good family fun for everyone from 10 am - 5 pm! Admission is free! The Chicken Farm Art Center is located at 2505 Martin Luther King Blvd. For more information, call 653-4936.
'Just Between Friends' (JBF)  is having their big Fall 2017 sale this Wednesday thru Saturday, Oct. 4th - 7th in the San Angelo Coliseum. Anyone can shop and everyone can save. Shop 30,000 square feet of gently used newborn to teen items. Bargains are even organized by size, gender and category for ages! They gladly accept cash, check, credit, and debit! For more information, call 374-0376.
The ASU Planetarium will present the full-dome public astronomy show "Stars: The Powerhouses of the Universe" at 7 p.m. on Thursdays, Sept. 7 - Nov. 16, in the Vincent Nursing-Physical Science Building All the shows are open to the public with admission prices of $3 for adults and $2 for children, active military and senior citizens. ASU students, faculty and staff are admitted free. Call 942-2136 for more information.
Everyone is invited to join the celebration of the 34th Annual National Night Out Against Crime this Tuesday, Oct. 3rd from 4:30 - 8:00 PM. Turn on your porch lights and spend the evening outside with friends, neighbors, Police Officers, EMS, and Firefighters. Enjoy Games, Prizes, Free Handouts, Children's Activities, First Responder Vehicles and more. Locations include:
Brixton Apartments – 555 Smith Blvd., 6:00-8:00 PM
Solid Rock Church – 1305 Koberlin St., 6:00-8:00 PM
Bent Tree Apartments – 1625 Sunset Dr., 6:00-8:00 PM
Angelo Skate & Fun Center – 34 Buick St., 5:00-7:00 PM
Northside Boys & Girls Club – 1802 N. Lillie, 5:00-8:00 PM
Sedona Ranch Apartments – 2901 Sunset Dr., 5:00-7:00 PM
Sunset Apartments & Annex – 1701 Sunset Dr., 5:00-7:00 PM
Wall Brethren Church – 7921 Loop 570, Wall, TX, 4:30-7:30 PM
Goodfellow Family Housing – 2025 Longhorn Dr. - 5:30 - 7:30 PM                                    For more information, contact Sergeant Tim Coffman at 481-2709.
Angelo Civic Theater presents 'The Boys Next Door' starting this Friday, September 29th with performances running through October 8th. For showtimes and more information, call the Theater at 949-4400.
The Concho Valley Farmers Market brings in Vendors from a 75-mile radius around San Angelo offering locally grown and seasonal fruits, vegetables and plants every Tuesday, Thursday and Saturday from 7am until they sell out (typically by noon)  You'll find the farmer's market under the pavilion at 609 S. Oakes St. across from Fort Concho. The market will hold its sales until the first fall freeze.